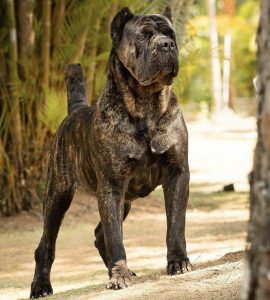 Owner's Information
Owner's Name:
Najlaa Macklin
Contact Info:
7169366196
[email protected]
Location:
Cypress, TX
Posted on:
October 5, 2023
Pet's Information
Pet's Name: Akuma
Biography:

Meet Akuma
Name: Akuma
Akuma is a well-disciplined and house-trained canine companion who thrives on love and loyalty. He's incredibly affectionate towards his owner and will be your most devoted protector. With immense strength, Akuma requires an owner who can match his power and provide the guidance he needs. If you're ready to welcome a strong and loving companion into your life, Akuma is the perfect match for you.
Breed: Cane Corso
Gender: Male
Date of Birth: April 18, 2021
Color/Markings: Brindle
Weight: 130lbs.
Size: Large
Re-Home Fee: $50
Reason for re-homing:

Our dog, who was primarily my husband's companion, is now two years old. With my husband recently deployed, he's come to live with us for the first time in two years. However, given his size and the needs of our two little kids, it's become clear that I can't provide him with the care and attention he deserves. We're now seeking a loving home to foster for one year.
Spayed or Neutered: No
Microchipped: Yes
Current on Vaccines: Yes
House-trained: Yes
Crate-trained: Yes
Litterbox-trained: Yes
Pet Friendly: Yes
Child Friendly: Unsure
Additional Images: