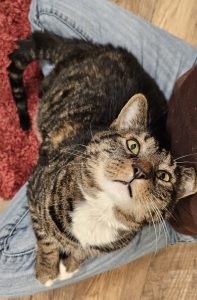 Owner's Information
Owner's Name:
Heidi
Contact Info:
3854982644
[email protected]
Location:
American Fork, UT
Posted on:
October 27, 2023
Pet's Information
Pet's Name: Arthur
Biography:

Arthur is a good kittie, he's just scared and I need to find him somewhere he can be safe because my other cat wants to kill him and it's sad.
Breed: domestic short hair
Gender: Male
Date of Birth: October 14, 2011
Color/Markings: white belly, black and brown stripes
Weight: 13lbs.
Size: Medium
Re-Home Fee: $50
Reason for re-homing:

Arthur is very anxious but very sweet and not aggressive at all, just very scared. Over time he has relaxed to where he will let me pet him on the bathroom rug...he'll roll around and purr but it took him 3 months. Unfortunately he has had to stay in my bathroom this whole time because my other cat wants to kill him. But he is also a hider and very scared...again, a very gentle cat, just scared and nervous which seems to make my cat want to attack him for whatever reason. Before he came to live with me he had a good owner who had had him about a decade. Arthur has always been skittish. It's just how he is. He's been overgrooming himself giving himself a few bald spots but I think it's because my cat is constantly meowing outside the bathroom. Arthur spends a lot of time on a cat bed that I put under the bathroom cupboard. He would do best in a quiet home without any other pets. He will need somewhere cozy and safe to hide for the first while. He's about 12 or 13 years old.
Spayed or Neutered: Yes
Microchipped: No
Current on Vaccines: No
House-trained: Yes
Crate-trained: No
Litterbox-trained: Yes
Pet Friendly: No
Child Friendly: Unsure
Additional Images: