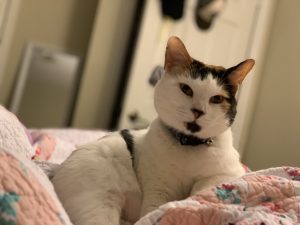 Owner's Information
Owner's Name:
Alyssa Glick
Contact Info:
3526301240
[email protected]
Location:
Orlando, FL
Posted on:
October 4, 2023
Pet's Information
Pet's Name: Autumn
Biography:

Autumn was given to me by a family friend when she was a kitten. She isn't a fan of other pets but can tolerate other cats if need be. She only eats dry food, she's not a fan of wet food or treats. She prefers a covered litter box. She's a bit skittish at first but is really cuddly once she warms up to you. She does occasionally puke but it's a behavioral issue connected to separation anxiety. She likes to play with string and crinkly toys.
Breed: Calico
Gender: Female
Date of Birth: October 1, 2012
Color/Markings: Calico
Weight: 7lbs.
Size: Medium
Re-Home Fee: $50
Reason for re-homing:

Relocating
Spayed or Neutered: Yes
Microchipped: No
Current on Vaccines: Yes
House-trained: Yes
Crate-trained: No
Litterbox-trained: Yes
Pet Friendly: No
Child Friendly: Unsure
Additional Images: