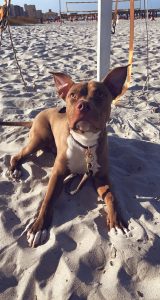 Owner's Information
Owner's Name:
Desiree Graham
Contact Info:
9044239568

Location:
Jacksonville, FL
Posted on:
September 23, 2023
Pet's Information
Pet's Name: Blu
Biography:

Two years ago, I bought Blu, a red nose pit bull puppy, from a private owner.  At the time my schedule allowed me to give  him the attention that he needed.  However, I can no longer do that.  He is potty trained, neutered, and he obeys commands.  He loves to play and he is always excited to go for a walk.  Blu is a friendly and loving puppy who loves to cuddle.
Currently, he is corralled during the day which is not a good situation for him, as he has pinned up energy in the evening.  He eats once a day and he potties in the morning and in the evening after he eats.   The best situation for Blu is a family with or without children who can give him the attention that he deserves.  Blu is a positive addition to any family because to know him is to love him.
Breed: American Pitbull Terrier
Gender: Female
Date of Birth: November 10, 2021
Color/Markings: Tan with little white markings on his paws and chest
Weight: 46lbs.
Size: Medium
Re-Home Fee: $250
Reason for re-homing:

Spayed or Neutered: Yes
Microchipped: Yes
Current on Vaccines: Yes
House-trained: Yes
Crate-trained: Yes
Litterbox-trained: No
Pet Friendly: Yes
Child Friendly: Yes
Additional Images: