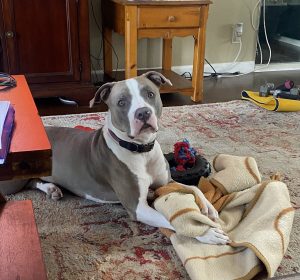 Owner's Information
Owner's Name:
YLK
Contact Info:
Location:
Anaheim, CA
Posted on:
September 27, 2023
Pet's Information
Pet's Name: Blue
Biography:

This dog was found hungry and in bad shape. But je's full of energy and he's loving. He doesn't mind my two shitsus they are old and slow and they haven't tried to play with him. I don't know how he would be if they did and I don't know how he would behave around bigger dogs. He loves this blanket. He plays with it and sleeps under it. I think he deserves a loving home with someone energetic to play with.
Breed: American Staffordshire Terrier
Gender: Male
Date of Birth: April 7, 2021
Color/Markings: gray
Weight: 63lbs.
Size: Large
Re-Home Fee: $0
Reason for re-homing:

Rescued abandoned dog. He's lovable and sweet. I have 2 older shithu's. They are adjusting but they still give him the side eye. He needs someone with energy to match his own.
Spayed or Neutered: Yes
Microchipped: No
Current on Vaccines: Yes
House-trained: Yes
Crate-trained: No
Litterbox-trained: 
Pet Friendly: Unsure
Child Friendly: Unsure
Additional Images: