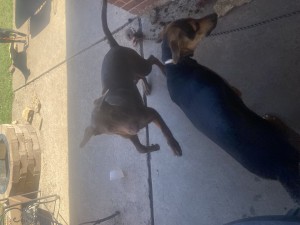 Owner's Information
Owner's Name:
Linda
Contact Info:
Location:
Katy, TX
Posted on:
November 16, 2023
Pet's Information
Pet's Name: Brownie
Biography:

Parents were abandoned and we rescued them and a few months later they had a liter of puppies. Dad is black with white markings all over and mom is all black (lab) with a couple of white markings. Puppies were born on 2/23/23 and have had their first series of shots. They love to play, walk and run. No known medical issues and they love attention. Flea and tick prevention used. I believe they would love to be rehomed to someone that enjoys taking walks and where they will have room to run and play.
Breed: lab/catahoula
Gender: Male
Date of Birth: February 23, 2023
Color/Markings: brown
Weight: 40lbs.
Size: Medium
Re-Home Fee: $50
Reason for re-homing:

Rescued parents and they had puppies. Have two remaining pups and parents left.
Spayed or Neutered: No
Microchipped: No
Current on Vaccines: No
House-trained: Yes
Crate-trained: No
Litterbox-trained: No
Pet Friendly: Yes
Child Friendly: Yes
Additional Images: