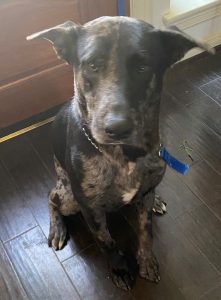 Owner's Information
Owner's Name:
Linda
Contact Info:
Location:
Katy, TX
Posted on:
November 17, 2023
Pet's Information
Pet's Name: Brutus
Biography:

Rescued as pup in Feb 2022 and is now appr 50 lbs, he is playful, likes to run ad go on walks. May ne catahoula mix, primary color is black with gray markings all over. He is very alert and has a loud bark.
Breed: Catahoula mix?
Gender: Male
Date of Birth: January 15, 2022
Color/Markings: Black/Gray
Weight: 55lbs.
Size: Large
Re-Home Fee: $50
Reason for re-homing:

Rescued pup from abandoned trailer, is now appr 20 months old and needs a home where he can run and play. Great personality, loyal, loud bark and gets along with other family dogs. Has had first series shots.
Spayed or Neutered: No
Microchipped: No
Current on Vaccines: No
House-trained: Yes
Crate-trained: No
Litterbox-trained: No
Pet Friendly: Yes
Child Friendly: Yes
Additional Images: