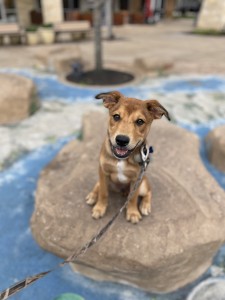 Owner's Information
Owner's Name:
Danna Armand
Contact Info:
832-731-6151

Location:
Houston, TX
Posted on:
September 28, 2023
Pet's Information
Pet's Name: Cash
Biography:

This puppy was found at Wal-Mart. He is super sweet and everyone is his BFF. Loves people and other animals. We think he is 3-5 months. Not sure of breed but definitely a mix
Breed: Mix
Gender: Male
Date of Birth: June 1, 2023
Color/Markings: Brown w/tan on face and partial white chest
Weight: 15lbs.
Size: Medium
Re-Home Fee: $50.00
Reason for re-homing:

Spayed or Neutered: No
Microchipped: No
Current on Vaccines: No
House-trained: Yes
Crate-trained: Yes
Litterbox-trained: No
Pet Friendly: Yes
Child Friendly: Yes
Additional Images: