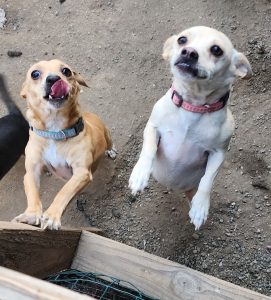 Owner's Information
Owner's Name:
Santos
Contact Info:
Location:
Nuevo, CA
Posted on:
September 28, 2023
Pet's Information
Pet's Name: Chico and Brownie
Biography:

Both chico and brownie were rescued from shelter. Came from the same litter. Would really like to see them go together.
Breed: Chihuahua
Gender: Male
Date of Birth: June 18, 2020
Color/Markings: Tan and brown
Weight: 12lbs.
Size: Small
Re-Home Fee: $75.00
Reason for re-homing:

Both dogs are brothers. Would really like them to go together. Due to new home HOA. Not allowed to take all my dogs.
Spayed or Neutered: Yes
Microchipped: Yes
Current on Vaccines: Yes
House-trained: No
Crate-trained: Yes
Litterbox-trained: No
Pet Friendly: Unsure
Child Friendly: Yes
Additional Images: