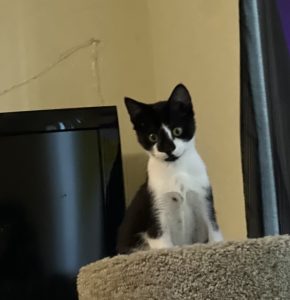 Owner's Information
Owner's Name:
Sandi Valdes
Contact Info:
3056065793

Location:
Gainesville, FL
Posted on:
October 17, 2023
Pet's Information
Pet's Name: Cookies and cream
Biography:

This playful kitten is super friendly and quite talkative. He loves greeting people and is truly a purring machine. He has the cutest hops and loves to play with any toy.
Breed: American Short hair
Gender: Male
Date of Birth: June 29, 2023
Color/Markings: Black and white
Weight: 4lbs.
Size: Small
Re-Home Fee: $50
Reason for re-homing:

Found him in a tree crying, I already have one cat and would be struggling (not able) to afford two cats.
Spayed or Neutered: Yes
Microchipped: No
Current on Vaccines: Yes
House-trained: Yes
Crate-trained: No
Litterbox-trained: Yes
Pet Friendly: Unsure
Child Friendly: Unsure
Additional Images: