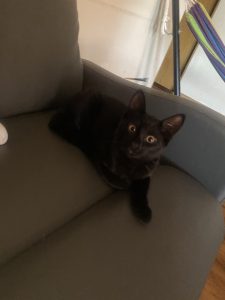 Owner's Information
Owner's Name:
Fatima
Contact Info:
8488630909

Location:
New Brunswick, NJ
Posted on:
November 1, 2023
Pet's Information
Pet's Name: Coraline
Biography:

She is Coraline
She is the most relaxed of all the cats I have. She is friendly and likes to play with balls and lasers. Sometimes she can be shy so do not worry if you are not able see her because she likes to hide. She  has never scratch anything, she has not bite anyone.
Breed: American short hair
Gender: Female
Date of Birth: May 22, 2023
Color/Markings: All black
Weight: 5lbs.
Size: Small
Re-Home Fee: $50.00
Reason for re-homing:

I got too much pets with me
Currently I got three including her.
She is one of four cats my cat gave birth to. She is the only one I been unable to find a home.
Spayed or Neutered: Yes
Microchipped: No
Current on Vaccines: Yes
House-trained: Yes
Crate-trained: Yes
Litterbox-trained: Yes
Pet Friendly: Yes
Child Friendly: Yes
Additional Images: