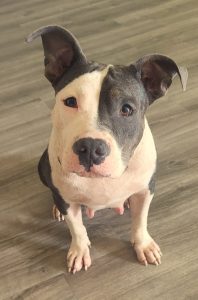 Owner's Information
Owner's Name:
J
Contact Info:
Location:
Rosharon, TX
Posted on:
October 9, 2023
Pet's Information
Pet's Name: Daisy
Biography:

🐾Looking for a Special Home for Daisy 🐾
Meet Daisy, the boss lady of all boss ladies! 🐶 Daisy might have had a tough start in life, possibly used for breeding, but she's on the path to a brighter future. I initially thought she was expecting puppies due to her big belly, but it turns out she just needed a few good poops to feel better! 💩😅
Daisy is a bit of a shy gal and takes her time warming up to new people. However, once she trusts you, be prepared for her to come running over, begging for all the attention and love she deserves. 🥰
Found on the streets just two weeks ago, Daisy is still quite skittish and working on overcoming her fear of new things, which often results in some barking. She's slowly getting used to loud, unexpected noises but needs someone patient to keep showing her that "new" doesn't mean "bad."
Looking for a knowledgeable and patient owner who can provide a calm environment. Daisy isn't leash trained yet, but she's a quick learner, already crate-trained and mastering the art of sitting on command! 🎓 She gets along well with her foster sister dog and may do well with dogs her own size or larger.
Daisy is also dealing with some mange, but it's slowly clearing up. She hasn't had bath time so far, so I'm not sure what her land hippo status is yet. She's been vaccinated and dewormed but has not yet been spayed.
If you think you might be the right fit for this bossy, but sweet lady, please send me a message. There will be a rehoming fee of $150, but the reward of giving Daisy a loving home is priceless. 🏡❤️
Let's find Daisy the forever home she truly deserves! 🐶💕 #FosterNeeded #AdoptDaisy #RescueDogs #DaisyTheBoss
Breed: American Bully
Gender: Female
Date of Birth: October 1, 2022
Color/Markings: white and grey
Weight: 50lbs.
Size: Medium
Re-Home Fee: $150
Reason for re-homing:

found a stray, not able to keep as home does not allow pets
Spayed or Neutered: No
Microchipped: No
Current on Vaccines: Yes
House-trained: No
Crate-trained: Yes
Litterbox-trained: No
Pet Friendly: Unsure
Child Friendly: Unsure
Additional Images: