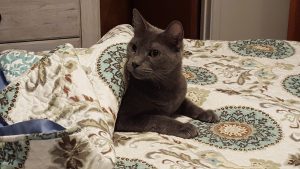 Owner's Information
Owner's Name:
Ashley Linton
Contact Info:
9513168986
[email protected]
Location:
Riverside , CA
Posted on:
September 20, 2023
Pet's Information
Pet's Name: Dexter
Biography:

Dexter is a sweet boy that has been in our family for 15 years. With the addition of our son, he has not adjusted so well. As usual space has been decreased. He is a cat that is very lovable, but let's just spend most of his time alone as long as he has something cozy to lay on and plenty of food. He's not a fan of young children or small dogs but gets along just with larger dogs if they leave him alone. Since he's an older cat, he takes a steroid 2 to 3 times a week. Otherwise he's the most healthy cat and my husband and I joke about how he'll still be around by the time we send our kids to college. He's definitely a member of our family in this decision has been a very hard one. We're looking for a loving family for him.
Breed: Russian Blue
Gender: Male
Date of Birth: July 15, 2008
Color/Markings: Grey Blue
Weight: 11lbs.
Size: Small
Re-Home Fee: $50
Reason for re-homing:

New baby in family not doing well with cat.
Spayed or Neutered: Yes
Microchipped: No
Current on Vaccines: Yes
House-trained: Yes
Crate-trained: No
Litterbox-trained: Yes
Pet Friendly: Unsure
Child Friendly: No
Additional Images: