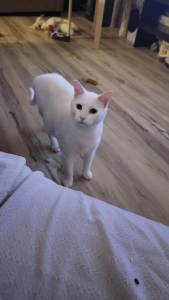 Owner's Information
Owner's Name:
Mark Conrad
Contact Info:
2108032628

Location:
Katy, TX
Posted on:
October 9, 2023
Pet's Information
Pet's Name: Haku
Biography:

Haku is a very sweet cat, he likes to get pet and cuddle he is just very shy and cautious. He will thrive in a home where there isn't too much traffic or he has a space properly set up where he can relax out of sight such as tunnels, behind furniture, dens etc.
He has never had behavioral issues until we moved where he would pee outside of his litterbox around where he tends to hang out and rest due to the other cats we assume. That is why we believe he would be better suited as a lone cat, however he has lived with 2-3 other cats for his first 3 years and has had no issues getting along. So if you take the proper precautions to introduce two cats to each other then it may be okay.
We would like to give him a home where he can rest in peace as he tends to be pretty anxious and will work with anyone willing to take him. He is currently not up to date with his vaccines due to skittishness and anxiousness and would be willing to help with the vaccine costs, give left over heartworm medicines and his tunnel/toys etc
Breed: American Short Hair
Gender: Male
Date of Birth: April 30, 2019
Color/Markings: White
Weight: 14lbs.
Size: Large
Re-Home Fee: $50
Reason for re-homing:

We have 3 cats including Haku. Before moving we lived in San Antonio and Haku has been with us since he was born and got along very well with our other cats. However after moving homes Haku has had issues adjusting to a heavier traffic household and has not gotten along with our other 2 cats as he seems to be quite reactive to change. We have tried various options to get them to cooperate with each other but it would seem that relationship is severed.
Although he has gotten along with other cats in the past, we do recommend him to be a solo cat although with proper structure of introducing new cats to eachother he may be okay.
He is an extremely sweet cat and likes to cuddle and get pets he is just very cautious and shy.
Spayed or Neutered: Yes
Microchipped: Yes
Current on Vaccines: No
House-trained: Yes
Crate-trained: No
Litterbox-trained: Yes
Pet Friendly: Unsure
Child Friendly: Yes
Additional Images: