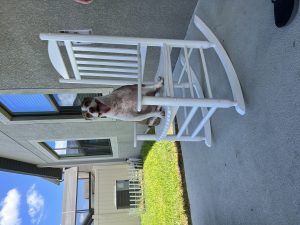 Owner's Information
Owner's Name:
Ines
Contact Info:
Location:
Riverview, FL
Posted on:
October 1, 2023
Pet's Information
Pet's Name: Heimdall
Biography:

Heimdall is both cuddly and energetic. I used to run with him to train for races. He does not like cats. Struggling to get along with other dog and new baby. Causing a severe mental toll with already struggling postpartum health. He is a rescue dog and is very sweet and has received training class. Needs someone who is able to maintain and reinforce it. He loves outdoors and swimming! Familiar with paddle boarding too. He would do better with kids 5 or older
Breed: Parson Russell Terrier
Gender: Male
Date of Birth: February 3, 2017
Color/Markings: Brindle
Weight: 33lbs.
Size: Medium
Re-Home Fee: $125
Reason for re-homing:

Heimdall is both cuddly and energetic. I used to run with him to train for races. He does not like cats. Struggling to get along with other dog and new baby. Causing a severe mental toll with already struggling postpartum health. He is a rescue dog and is very sweet and has received training class. Needs someone who is able to maintain and reinforce it. He loves outdoors and swimming! Familiar with paddle boarding too
Spayed or Neutered: Yes
Microchipped: Yes
Current on Vaccines: Yes
House-trained: Yes
Crate-trained: No
Litterbox-trained: 
Pet Friendly: Unsure
Child Friendly: Yes
Additional Images: