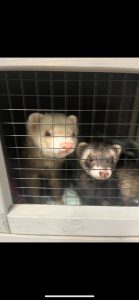 Owner's Information
Owner's Name:
April Supel
Contact Info:
9372182839
[email protected]
Location:
Walton, KY
Posted on:
October 7, 2023
Pet's Information
Pet's Name: Jasper & Draculaura
Biography:

We are re-homing our set of ferrets. One male (neutered), one female (spayed).  They have both been descented (sent glands removed).  They are trained to use a litter box in their cage, but may not always go back to the cage if they are running around playing. We use puppy pads around the room when they are playing outside of the cage. They are a little over a year old. The male is one month older. The male is extremely friendly, the female will bite your feet if you are not wearing socks. She has also bitten my daughter's hand.  They like to play with our Lab dogs. They are very active and like to spend a lot of time outside of their cage. They will come with their cage - included in the rehoming fee.
Breed: Ferrets
Gender: Male
Date of Birth: August 1, 2022
Color/Markings: Multi colored
Weight: 2lbs.
Size: Small
Re-Home Fee: $350.00
Reason for re-homing:

They belong to my daughter, her schedule is making it hard for her to properly care for them. They need a lot of attention & a lot of time out of their cage.
Spayed or Neutered: Yes
Microchipped: No
Current on Vaccines: Yes
House-trained: No
Crate-trained: Yes
Litterbox-trained: Yes
Pet Friendly: Yes
Child Friendly: Unsure
Additional Images: