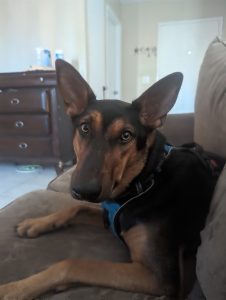 Owner's Information
Owner's Name:
Jonathen
Contact Info:
9512069603
[email protected]
Location:
Riverside, CA
Posted on:
October 14, 2023
Pet's Information
Pet's Name: Jewel
Biography:

shes a female mix German Shepard I adopted her 2 years ago. She's neuter. She's friendly with other animals. She almost three years old. 
Breed: German Shepard mix
Gender: Male
Date of Birth: January 8, 2021
Color/Markings: Black with light brown
Weight: 45lbs.
Size: Medium
Re-Home Fee: $75
Reason for re-homing:

Needs to rehome for reason for more space more attention and better owner
Spayed or Neutered: Yes
Microchipped: Yes
Current on Vaccines: Yes
House-trained: Yes
Crate-trained: No
Litterbox-trained: No
Pet Friendly: Yes
Child Friendly: Yes
Additional Images: