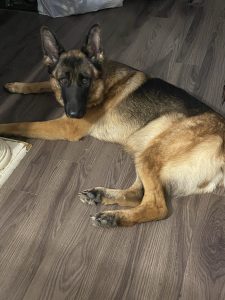 Owner's Information
Owner's Name:
Israel
Contact Info:
8326702326
[email protected]
Location:
Houston, TX
Posted on:
September 28, 2023
Pet's Information
Pet's Name: June
Biography:

She is up to date on all vaccine with her latest appointment being on May 15th 2023. She won't be needing her rabies shot until 2026. She is quite playful and energetic. She loves her owner and anyone who resides in the house. She will act defensive towards strangers. I don't have any kids so I don't know how she will interact. I would keep her a safe distance away since I have no clue what would happen. Since she is energetic, she would probably be to rough on kids and children. She knows common commands and she is trained to let you know when she needs to use the restroom. She is slightly crate trained. She does not get along with other pets. I would only recommend June if that is the only dog/pet in the house.
Breed: German Shepherd
Gender: Female
Date of Birth: November 20, 2020
Color/Markings: Black/Brown
Weight: 55lbs.
Size: Large
Re-Home Fee: $60
Reason for re-homing:

I will move away to another state with no option to take her with me and I won't be able to take care of her. I have no one to leave her with so She will need a nice loving home.
Spayed or Neutered: No
Microchipped: No
Current on Vaccines: Yes
House-trained: No
Crate-trained: Yes
Litterbox-trained: No
Pet Friendly: No
Child Friendly: Unsure
Additional Images: