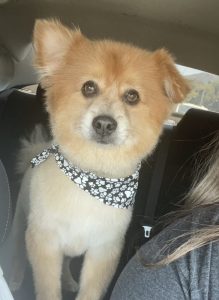 Owner's Information
Owner's Name:
Cecilia Lara-Sanchez
Contact Info:
Location:
Corona, CA
Posted on:
October 18, 2023
Pet's Information
Pet's Name: Koda
Biography:

Hi my name is Koda and I am a Pomeranian mix I was born on Valentine's Day. I enjoy sun bathing, lone walks and playing with my owner. I also enjoy dressing up. My Dr says I'm a bit over weight but I disagree he put me on a diet I try to follow. Unfortunately my owner can no longer keep as she is always gone for work as she works 3 jobs she hates to see me go as she had me as a puppy but knows I deserve a better home. I will come along with some of my things my shampoos bowls blankets
Breed: Pomeranian mix
Gender: Male
Date of Birth: October 14, 2017
Color/Markings: Brown
Weight: 27lbs.
Size: Medium
Re-Home Fee: $75
Reason for re-homing:

Went from living in a home with a backyard and someone always there to watch him into a apartment with no yard for him to roam I work 3 jobs and can't give him the love and attention he deserves.
Spayed or Neutered: Yes
Microchipped: Yes
Current on Vaccines: Yes
House-trained: Yes
Crate-trained: No
Litterbox-trained: No
Pet Friendly: Unsure
Child Friendly: Unsure
Additional Images: