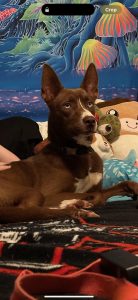 Owner's Information
Owner's Name:
Destiny collins
Contact Info:
3216031656
[email protected]
Location:
Mims, FL
Posted on:
October 22, 2023
Pet's Information
Pet's Name: Lelo
Biography:

Breed: Husky/mix
Gender: Female
Date of Birth: January 3, 2023
Color/Markings: Red and white
Weight: 30lbs.
Size: Medium
Re-Home Fee: $50.00
Reason for re-homing:

Have a female dog in the home and they don't get along..she needs more attention and possibly needs to be the only dog. She is very energetic, good with kids in the little time we've had her. She was a recusebecause someone couldn't care for her and we thought she would fit in with our crew..unfortunately our female is touchy with others...she is a really good dog and listens for the most part...she is house broken if u take out frequently..and also crate trained already...needs to be taught walking with out pulling but she's willing to learn..she is approx 10mos old..
Spayed or Neutered: No
Microchipped: No
Current on Vaccines: Yes
House-trained: Yes
Crate-trained: Yes
Litterbox-trained: No
Pet Friendly: Unsure
Child Friendly: Yes
Additional Images: