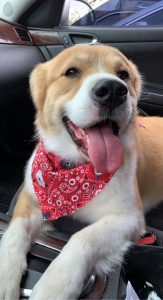 Owner's Information
Owner's Name:
Jackie Olays
Contact Info:
9513767642
[email protected]
Location:
Riverside, CA
Posted on:
October 19, 2023
Pet's Information
Pet's Name: Leo
Biography:

Leo is a very obedient, smart, and loving dog. He is protective and takes care of his home. I have a Husky at home but Leo is reactive and aggressive towards other bigger dogs and for that reason I can not keep him with me. Leo requires a home with no other big dogs. He does well with small dogs and other people.
Breed: Mixed Shepherd
Gender: Male
Date of Birth: February 11, 2020
Color/Markings: White and caramel
Weight: 55lbs.
Size: Medium
Re-Home Fee: $50
Reason for re-homing:

He doesnt get along well with other dogs his size. I have a grown husky and he can't be around him. He needs a family with no other dogs.
Spayed or Neutered: No
Microchipped: Yes
Current on Vaccines: Yes
House-trained: No
Crate-trained: No
Litterbox-trained: No
Pet Friendly: No
Child Friendly: Yes
Additional Images: