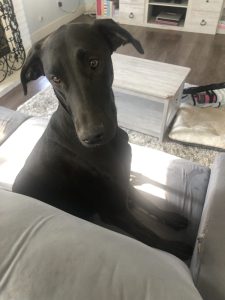 Owner's Information
Owner's Name:
Lauren Hernandez
Contact Info:
Location:
Riverside, CA
Posted on:
October 26, 2023
Pet's Information
Pet's Name: Lizzie
Biography:

Friendly. Loving. Great Family Dog. Very Protective. Loves To Play Outside. Loves Frisbees And Tennis Balls.
Breed: Great Dane/Doberman Mix
Gender: Female
Date of Birth: July 1, 2022
Color/Markings: Black
Weight: 100lbs.
Size: Large
Re-Home Fee: $50.00
Reason for re-homing:

We love her but no longer have the time or resources to take care of her. Looking to re-home her to a loving family.
Spayed or Neutered: No
Microchipped: No
Current on Vaccines: No
House-trained: No
Crate-trained: No
Litterbox-trained: No
Pet Friendly: Yes
Child Friendly: Yes
Additional Images: