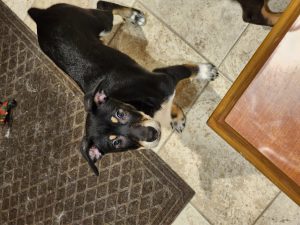 Owner's Information
Owner's Name:
Mikey
Contact Info:
Location:
Hitchcock, TX
Posted on:
October 3, 2023
Pet's Information
Pet's Name: LuLu
Biography:

LuLu is an independent, sweet little girl who is very active. She loves to play with her sibling brother who is also up for adoption. She loves to play in the water and is adventurous. LuLu will make a great puppy for an active lifestyle family. She is a Mexican hairless(coated) mixed with Mini Aussie.
Breed: Mexican Hairless
Gender: Female
Date of Birth: June 22, 2023
Color/Markings: Black Tan White
Weight: 12lbs.
Size: Small
Re-Home Fee: $50
Reason for re-homing:

LuLu is from a litter and I cannot keep her anymore as I already have two. She is up to date on shots and oral meds.
Spayed or Neutered: No
Microchipped: No
Current on Vaccines: Yes
House-trained: Yes
Crate-trained: Yes
Litterbox-trained: No
Pet Friendly: Yes
Child Friendly: Yes
Additional Images: