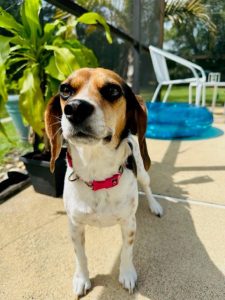 Owner's Information
Owner's Name:
Mai
Contact Info:
3217107516
[email protected]
Location:
ORLANDO, FL
Posted on:
October 2, 2023
Pet's Information
Pet's Name: Luna
Biography:

Luna is approximately 3 ½ years old and a purebred beagle. She is friendly, affectionate, gentle, loyal, super playful, energetic, smart, athletic, funny, curious, and loves cuddling and sitting on your lap.  Her favorite toys are tennis balls, and she does the cutest zoomies.
She is spayed, microchipped, negative fecal, has all yearly shots & has been up to date on heartworm and flea prevention every 90 days.
Luna is such an excellent dog for people without small children, and while she plays with other dogs, she is preferably a one-dog family. She will warm up to other dogs eventually, but it takes a while with a lot of time for her to get used to them.
ADOPT Luna, a super sweet, pure Beagle dog that needs a great home!
Breed: Beagle
Gender: Female
Date of Birth: May 9, 2020
Color/Markings: White with black and brown spots
Weight: 18lbs.
Size: Small
Re-Home Fee: $300
Reason for re-homing:

Meet Luna!
Due to unforeseen family circumstances, we are having to rehome Luna. We had her since she was 4 months old, and she is the loveliest dog. The kids are heartbroken, but we cannot keep her at our house anymore and provide her with the time she needs. She needs a lot of attention and at least 2-3 walks per day, and due to our demanding schedules, we cannot give her the time she needs. We are forced to find a loving and stable home. The re-homing fee is for updated vet checkup certification and to ensure a good home.
Spayed or Neutered: Yes
Microchipped: Yes
Current on Vaccines: Yes
House-trained: Yes
Crate-trained: Yes
Litterbox-trained: Yes
Pet Friendly: Unsure
Child Friendly: Yes
Additional Images: