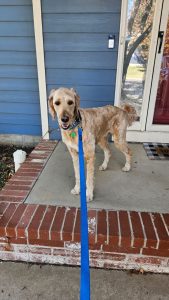 Owner's Information
Owner's Name:
Michael
Contact Info:
3169323572
[email protected]
Location:
Wichita, KS
Posted on:
October 17, 2023
Pet's Information
Pet's Name: Mason
Biography:

Mason is a very loving and friendly dog. He does well with kids. Loves to snuggle. Needs room to run. Loves to chase the squirrels. Doesn't have any health issues. Well behaved in the home, no appetite for chewing things. Needs a loving home that has land, a large yard, maybe even a farm. He will stand still and let you hose him down for a bath. Knows basic commands like sit, stay, and here. Although he forgets if he's found a squirrel. He doesn't run away, but he loves to run.
Breed: Goldendoodle
Gender: Male
Date of Birth: October 31, 2020
Color/Markings: Tan, golden
Weight: 60lbs.
Size: Large
Re-Home Fee: $200
Reason for re-homing:

We adopted/rescued Mason from the Wichita Animal Shelter. He is a wonderful boy, roughly 3 years old. He is house trained, good with kids, basic obedience, sit, stay, here. He doesn't chew or get into things. We started over with his coat, so there's no matting. He is just too large for our accommodations, and a move in the near future will be even smaller. He loves to run and our yard is not big enough for him. He responded well to the threshold boundary in our home, so when we open the door he doesn't bolt, he will need to be taught this in his new home. We are falling in love with him and need to find him a better home where he can run and chase the squirrels! He is up to date on all shots and Rabies. His kennel, toys, leash, collar, and harnesses all come with him.
Spayed or Neutered: Yes
Microchipped: Yes
Current on Vaccines: Yes
House-trained: Yes
Crate-trained: Yes
Litterbox-trained: No
Pet Friendly: Yes
Child Friendly: Yes
Additional Images: