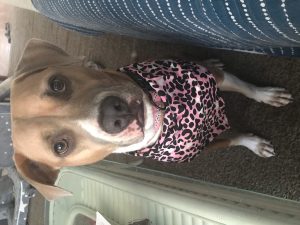 Owner's Information
Owner's Name:
Ryan Miller
Contact Info:
7278078129
[email protected]
Location:
Port Richey, FL
Posted on:
September 25, 2023
Pet's Information
Pet's Name: Mayzee Roo
Biography:

Mayzee is a 4 year old mixed breed. She is a sweet dog who shows lots of affection by licking . Unfortunately we are relocating and are not allowed to take her with. We are really sad about it and are looking for a good home for her.
Breed: Mixed
Gender: Female
Date of Birth: May 15, 2019
Color/Markings: Tan white
Weight: 55lbs.
Size: Large
Re-Home Fee: $75
Reason for re-homing:

We are moving from a home with a fenced in yard to an apartment and not only will she not have the space she needs because she's energetic but the apartment doesn't allow bigger dogs.
Spayed or Neutered: Yes
Microchipped: Yes
Current on Vaccines: No
House-trained: Yes
Crate-trained: No
Litterbox-trained: 
Pet Friendly: No
Child Friendly: Unsure
Additional Images: