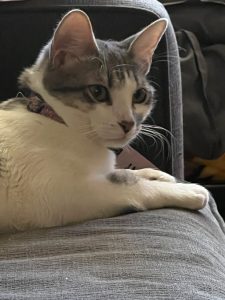 Owner's Information
Owner's Name:
Marisela
Contact Info:
951-220-5476
[email protected]
Location:
Perris, CA
Posted on:
October 7, 2023
Pet's Information
Pet's Name: MJ (Mary Jane)
Biography:

MJ is almost 2yrs old. We got her at 2months. She is an indoor cat. Very loving but also shy. She likes to look out the windows.
Breed: Not sure
Gender: Female
Date of Birth: December 12, 2021
Color/Markings: White with Grey marks
Weight: 4lbs.
Size: Medium
Re-Home Fee: $50.00
Reason for re-homing:

MJ was my daughters. My daughter no longer lives with me and was not able to take her. I work 2 jobs and am gone all day. MJ deserves more love and attention than I can give her.
Spayed or Neutered: Yes
Microchipped: Yes
Current on Vaccines: Yes
House-trained: Yes
Crate-trained: 
Litterbox-trained: Yes
Pet Friendly: Yes
Child Friendly: Yes
Additional Images: