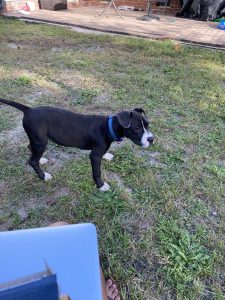 Owner's Information
Owner's Name:
Toya Homer
Contact Info:
3406268195
[email protected]
Location:
Fayetteville, NC
Posted on:
October 13, 2023
Pet's Information
Pet's Name: Nature
Biography:

Nature is very playful and energetic dog that loves kids and enjoys being outdoors. She is currently 5 months old.
Breed: Razor Edge Pitbull
Gender: Female
Date of Birth: May 7, 2023
Color/Markings: Black & White
Weight: 25lbs.
Size: Small
Re-Home Fee: $50
Reason for re-homing:

My son convinced me to get a dog but has not helped with her and I just don't have the time to give her all the attention she needs.
Spayed or Neutered: No
Microchipped: No
Current on Vaccines: No
House-trained: No
Crate-trained: Yes
Litterbox-trained: No
Pet Friendly: Unsure
Child Friendly: Unsure
Additional Images: