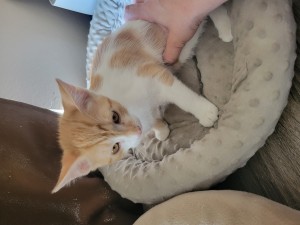 Owner's Information
Owner's Name:
Rebecca Escobar
Contact Info:
7023267611

Location:
Las Vegas, NV
Posted on:
October 8, 2023
Pet's Information
Pet's Name: None
Biography:

She was born July 4th along with 7 other kittes. Her mom is about 1 1/2 years old. she is orange, black and white, very friendly and cuddly.
Breed: orange and white tabby
Gender: Female
Date of Birth: July 4, 2023
Color/Markings: orange and white
Weight: 3lbs.
Size: Small
Re-Home Fee: $25
Reason for re-homing:

I have too many kitties and not enough money to take good care of thei needs
Spayed or Neutered: No
Microchipped: No
Current on Vaccines: No
House-trained: No
Crate-trained: No
Litterbox-trained: Yes
Pet Friendly: Yes
Child Friendly: Yes
Additional Images: