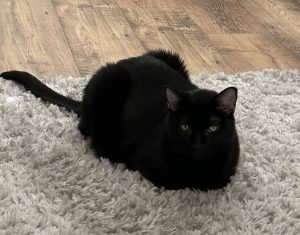 Owner's Information
Owner's Name:
Meshelle Tysinger
Contact Info:
Location:
Mooresville, NC
Posted on:
October 24, 2023
Pet's Information
Pet's Name: Norman
Biography:

Norman and his brother were stray kittens that I rescued 9 years ago. They are both in great health, are current on all vaccinations, and have received wellness blood testing. They have been declawed on the front feet and have been indoor only since rescued. Norman is an independent, explorer type cat while his brother is a lazy lap cat. They have been around dogs and children all their lives. Norman can be seen laying with or grooming his dog bestie often. They have never exhibited any type of aggressive behavior. I don't want to rehome them, but need to due to unexpected life events. I am not desperate and will only rehome them if they are adopted together. They are healthy cats with great personalities and will be excellent companions!
Breed: DSH
Gender: Male
Date of Birth: August 15, 2014
Color/Markings: Black
Weight: 15lbs.
Size: Small
Re-Home Fee: $50
Reason for re-homing:

My living situation is changing soon and I will be living on one income instead of two.
Spayed or Neutered: Yes
Microchipped: Yes
Current on Vaccines: Yes
House-trained: Yes
Crate-trained: No
Litterbox-trained: Yes
Pet Friendly: Yes
Child Friendly: Yes
Additional Images: