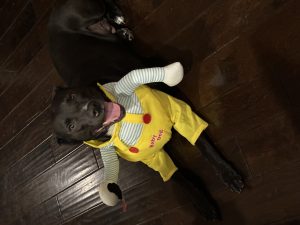 Owner's Information
Owner's Name:
Jason Raymond
Contact Info:
7863289804
[email protected]
Location:
KATY, TX
Posted on:
October 3, 2023
Pet's Information
Pet's Name: Patton
Biography:

Patton is and adorable and obedient dog, he loves to play and follow you everywhere.
He is good behaving, never ever is going to make a mess or destroy something in the house, he's super cute and a protector doggy. He loves to walk and he is trained to potty outside.
Breed: Labrador Mix Pitbull
Gender: Male
Date of Birth: July 14, 2016
Color/Markings: Bkack
Weight: 52lbs.
Size: Medium
Re-Home Fee: $75
Reason for re-homing:

We are moving to small apartment and we can not keep both dogs, we decide to keep our female dog.
Spayed or Neutered: Yes
Microchipped: Yes
Current on Vaccines: Yes
House-trained: Yes
Crate-trained: No
Litterbox-trained: No
Pet Friendly: Yes
Child Friendly: Yes
Additional Images: