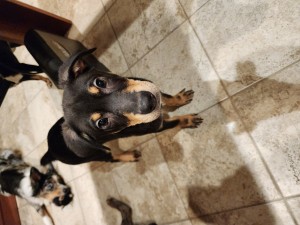 Owner's Information
Owner's Name:
Mikey
Contact Info:
Location:
Hitchcock, TX
Posted on:
October 3, 2023
Pet's Information
Pet's Name: Pito
Biography:

Pito is a spunky, loving, little puppy. He enjoys being outside and loves to cuddle. Sometimes hes independent and would rather be by himself, but he will always come back for more love. Pito is from a Mexican Hairless coated litter, he is not full breed though, he is also mixed with mini Aussie.
Breed: Mexican Hairless
Gender: Male
Date of Birth: June 22, 2023
Color/Markings: Black Tan White
Weight: 14lbs.
Size: Small
Re-Home Fee: $50
Reason for re-homing:

He was not adopted from a litter. He is up to date on shots and oral meds.
Spayed or Neutered: No
Microchipped: No
Current on Vaccines: Yes
House-trained: Yes
Crate-trained: Yes
Litterbox-trained: No
Pet Friendly: Yes
Child Friendly: Yes
Additional Images: