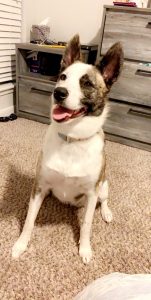 Owner's Information
Owner's Name:
Briana Roque
Contact Info:
8329172067
[email protected]
Location:
Houston, TX
Posted on:
October 23, 2023
Pet's Information
Pet's Name: Riley
Biography:

Riley is a great companion. She is house trained, microchipped, crate trained and spayed. She has a history of kidney stones and will need to regularly follow up with a vet. I believe her rabies vaccine is still up to date. She does also have anxiety from time to time but she can be given a very low dosage of melatonin as directed by her vet. She enjoys to swim, sunbathe, run, and be brushed. She knows commands such as sit, paw and leave it. I am really wanting for her to go to a family that will not have her in a crate 24/7 and that will allow her to do the things she enjoys doing. I prefer she goes to a family that has a home with a nice yard. She has a brother whom I would also like to place and would prefer they stay together but I know that may not be ideal. If you are interested in her brother as well, please let me know and I will send images and more information regarding him. Riley is pretty independent as well and a great home protector.
Breed: Australian Cattle/American Eskimo Mix
Gender: Female
Date of Birth: April 30, 2018
Color/Markings: Brindle
Weight: 60lbs.
Size: Medium
Re-Home Fee: $100
Reason for re-homing:

She is a good dog and a great protector however we live in an apartment an feel she deserves a big yard and a family that will give her the attention she craves. She also has not shown to be gentle with our 1 year old daughter. She is not aggressive but does tend to playa but rough sometimes. She loves to sunbath, swim and get groomed.
Spayed or Neutered: Yes
Microchipped: Yes
Current on Vaccines: No
House-trained: Yes
Crate-trained: Yes
Litterbox-trained: No
Pet Friendly: Yes
Child Friendly: Unsure
Additional Images: