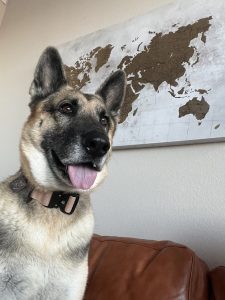 Owner's Information
Owner's Name:
Dylan Benedick
Contact Info:
3612498499

Location:
Tomball, TX
Posted on:
October 23, 2023
Pet's Information
Pet's Name: Robin
Biography:

Hello all!
We have had the opportunity to foster the sweetest 3 year old German Shepherd, Robin, but we have taken a small dog with a traumatic injury into our care unexpectedly and can no longer devote the time needed to her development. We are looking to re-home.
All shots and records are up to date and she is spayed. She is in the second half of her heart worm treatment with no complications.
She is crate trained, house trained, and is good with basic commands. While her manners around humans and small children are extremely good, she does show reactivity towards other dogs, so I would not advise that she is homed with other dogs without professional training.
Please let me know if you have any questions! Plenty of supplies to go with her to include large crate, muzzle, leash, etc. Small adoption fee required. Currently located in the Tomball, TX area.
She is a very sweet dog and deserves a loving home, thank you for your time!
Breed: German shepherd
Gender: Female
Date of Birth: October 1, 2020
Color/Markings: Brown
Weight: 70lbs.
Size: Large
Re-Home Fee: $75
Reason for re-homing:

Change in living situation
Spayed or Neutered: Yes
Microchipped: No
Current on Vaccines: Yes
House-trained: Yes
Crate-trained: Yes
Litterbox-trained: No
Pet Friendly: No
Child Friendly: Yes
Additional Images: