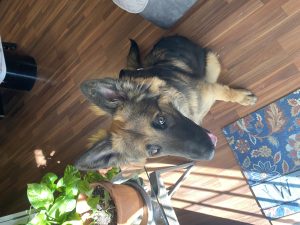 Owner's Information
Owner's Name:
Angie Medina
Contact Info:
9518922001
[email protected]
Location:
Riverside, CA
Posted on:
October 16, 2023
Pet's Information
Pet's Name: Rocky
Biography:

Rocky is about 1 year and 6 months. He can sit and shake paws. He is house-trained, but we keep him outside. He is up to date with his vaccines and is not neutered. He has lots of energy and loves to be around people. We want a home where he has lots of space to run around and can spend lots of time with him.
Recently, he acquired fleas (no ticks). We are working to free him from that.
Breed: German Shepard
Gender: Male
Date of Birth: April 9, 2022
Color/Markings: Black and Brown
Weight: 84lbs.
Size: Large
Re-Home Fee: $210
Reason for re-homing:

We are moving soon and we can't keep both of our dogs.
Spayed or Neutered: No
Microchipped: Yes
Current on Vaccines: Yes
House-trained: Yes
Crate-trained: No
Litterbox-trained: No
Pet Friendly: Unsure
Child Friendly: Unsure
Additional Images: