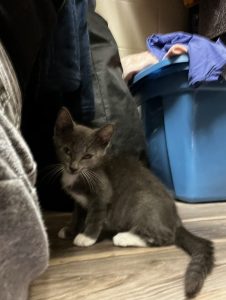 Owner's Information
Owner's Name:
Makayla Woods
Contact Info:
4072197501
[email protected]
Location:
Gainesville, FL
Posted on:
October 5, 2023
Pet's Information
Pet's Name: Ron
Biography:

I have had Ron for almost 3 month, I got him from the adoption center and I need to re-home him. Ron has lived with adults and he knows how to get along with others. He loves to run around and explore things, but he also loves cuddling and petting. He jumps at loud noises, but he is getting accustomed to it. He had no allergies, health conditions, or any medications. He loves people and likes cuddling with others, he is also independent too as I let him do his own thing and when he wants to play I usually play with him and his toy
Breed: Domestic ShortHair
Gender: Male
Date of Birth: September 5, 2023
Color/Markings: Grey and white
Weight: 3lbs.
Size: Small
Re-Home Fee: $50
Reason for re-homing:

Due to family/financial issues I am unable to provide for Ron and help him with food and supplies
Spayed or Neutered: Yes
Microchipped: Yes
Current on Vaccines: No
House-trained: Yes
Crate-trained: No
Litterbox-trained: Yes
Pet Friendly: Unsure
Child Friendly: Yes
Additional Images: