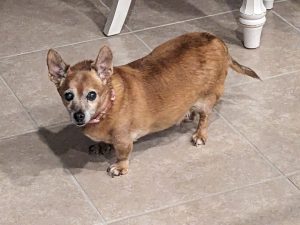 Owner's Information
Owner's Name:
Lizbeth
Contact Info:
Location:
Zephyrhills, FL
Posted on:
October 26, 2023
Pet's Information
Pet's Name: Sadie
Biography:

We got her from a shelter, she was 2 yrs of age.  Seems to  have been a lap dog for an older person,  because she never cared for toys, or playing fetch or anything.  Never tries to run out of the door. She is lovely, loves to eat and hardly barks. I will use the Rehome fee to cover her insurance until March2024.  She behaves very well around 2 cats and went taken to dog sitting, behaves well with other dogs too.
Breed: Chihuahua mix
Gender: Female
Date of Birth: January 1, 2014
Color/Markings: Cream
Weight: 13lbs.
Size: Small
Re-Home Fee: $75.00
Reason for re-homing:

Sadly, too many hours away from home.
Spayed or Neutered: Yes
Microchipped: Yes
Current on Vaccines: Yes
House-trained: Yes
Crate-trained: Yes
Litterbox-trained: No
Pet Friendly: Yes
Child Friendly: Yes
Additional Images: