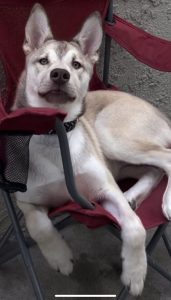 Owner's Information
Owner's Name:
Jessica
Contact Info:
8402270814

Location:
San Bernardino, CA
Posted on:
October 18, 2023
Pet's Information
Pet's Name: Savage
Biography:

Hello Pets name is Savage he has his first set of shots. He's very friendly and very playful. He's good with kids.
Breed: Siberian husky
Gender: Male
Date of Birth: February 22, 2023
Color/Markings: Tan color
Weight: 5lbs.
Size: Medium
Re-Home Fee: $50
Reason for re-homing:

It's hurting my heart but I can't keep him due to an apartment restrictions. He's so playful and overall a good dog. I hope I can find a loving home for him.
Spayed or Neutered: No
Microchipped: No
Current on Vaccines: Yes
House-trained: No
Crate-trained: Yes
Litterbox-trained: No
Pet Friendly: Yes
Child Friendly: Yes
Additional Images: