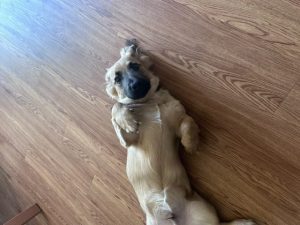 Owner's Information
Owner's Name:
Selena
Contact Info:
8328743224
[email protected]
Location:
Houston, TX
Posted on:
October 12, 2023
Pet's Information
Pet's Name: Shae
Biography:

Hello, our puppy's name is Shae he's just a baby. He's very high-energy. He really really loves belly rubs, HELL FALL OVER EVERTIME YOU COME NEAR! Its the cutest thing, and he gets to zoomies very often. I think his ideal home would be someone who is able to take him on walks often and who likes to play fetch and throw around his toys. He is a cuddler, but it doesn't last long, so just a family that could be able to deal with his playful side, if you are to take Shae into your home he will come with his favorite toys which are about 10, his cage, and his dog bowls. Thank you in advance.
Breed: german shepherd / golden retriever
Gender: Male
Date of Birth: May 10, 2023
Color/Markings: just light brown
Weight: 13lbs.
Size: Medium
Re-Home Fee: $75.00
Reason for re-homing:

My daughter's allergies have not adjusted and it's becoming detrimental
Spayed or Neutered: Yes
Microchipped: Yes
Current on Vaccines: Yes
House-trained: Yes
Crate-trained: Yes
Litterbox-trained: No
Pet Friendly: Yes
Child Friendly: Yes
Additional Images: