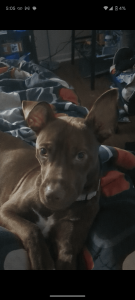 Owner's Information
Owner's Name:
Amber
Contact Info:
8637094027

Location:
Lake Alfred , FL
Posted on:
October 14, 2023
Pet's Information
Pet's Name: Stitch
Biography:

Stitch is a year and 3 months old, he is up to date on all vaccines, is microchipped, and  neutered. He is a big love bug and loves to snuggle on the couch with you, he loves being around anyone who will show him affection and spend time with him. He needs a good home full of love, that's all I could ever ask for. If you have any questions please don't hesitate to reach out to me, thank you.
Breed: Labrador retriever mix
Gender: Male
Date of Birth: June 15, 2022
Color/Markings: Brown/brindle
Weight: 35lbs.
Size: Medium
Re-Home Fee: $75
Reason for re-homing:

I am rehoming him due to landlord issues.
He has given us about 2 months (with extended time) to find stitch a home and now he's getting impatient...so please if you have any questions about stitch don't hesitate to message me!
Spayed or Neutered: Yes
Microchipped: Yes
Current on Vaccines: Yes
House-trained: Yes
Crate-trained: Yes
Litterbox-trained: No
Pet Friendly: Yes
Child Friendly: Yes
Additional Images: