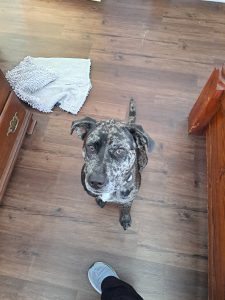 Owner's Information
Owner's Name:
Kate
Contact Info:
Location:
Lake City, FL
Posted on:
October 18, 2023
Pet's Information
Pet's Name: Sunnie
Biography:

Sunnie was born in Lake City, Florida, on December 30, 2021, to a Catahoula dad and a ChowChow mom. She is fixed, housebroken, microchipped, and up to date on all of her vaccines and prevention.  She weighed 56 lbs in September. She responds to "come," "sit," "leave it," "truck," and "crate." She is great with kids and other dogs, I don't know how she is with cats.  She is very cute, smart, fast, agile, and fiercely loyal.  She loves to be around others, and play and be pet.  She is protective, clever, and energetic.
She comes with a crate, bed, collar, leash (standard and slip), her favorite toys, 3 months of heartworm prevention, and 7 months of flea and tick prevention. I work 8-5, and keep her in a crate all day, but she deserves a home where she has more human companionship.
Breed: Catahoula
Gender: Female
Date of Birth: December 30, 2021
Color/Markings: Black and gray
Weight: 56lbs.
Size: Large
Re-Home Fee: $75
Reason for re-homing:

Sunnie is kept in a crate all day, because I work long hours. She deserves more human companionship and space to play.
Spayed or Neutered: Yes
Microchipped: Yes
Current on Vaccines: Yes
House-trained: Yes
Crate-trained: Yes
Litterbox-trained: Yes
Pet Friendly: Yes
Child Friendly: Yes
Additional Images: