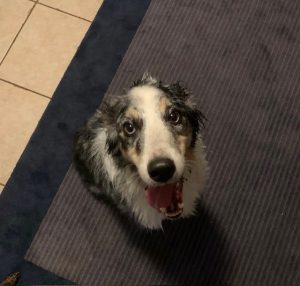 Owner's Information
Owner's Name:
Christina
Contact Info:
Location:
Gainesville, FL
Posted on:
October 11, 2023
Pet's Information
Pet's Name: Tucker
Biography:

Tucker is a happy, loveable boy.  He loves sitting next to you and cuddling.  Tucker knows commands for come, stay and sit.  He will do just about anything for a treat, lol.  He does get nervous when meeting new people but becomes your best friend in a few minutes.
Breed: Australian Shephard
Gender: Male
Date of Birth: October 15, 2020
Color/Markings: Blue Merle
Weight: 23lbs.
Size: Medium
Re-Home Fee: $75
Reason for re-homing:

A friend could no longer take care of him and left him with me while trying to find a new home for him. However, I have had Tucker now for a month and there has been no word from the owner on re-homing efforts. I am unable to keep Tucker, as I work long hours and he really needs space to run and play.
Spayed or Neutered: Yes
Microchipped: No
Current on Vaccines: Yes
House-trained: Yes
Crate-trained: Yes
Litterbox-trained: No
Pet Friendly: Yes
Child Friendly: Unsure
Additional Images: