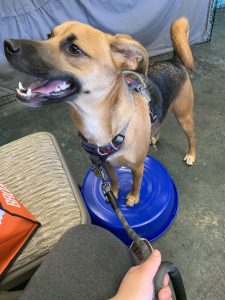 Owner's Information
Owner's Name:
Kayla Ortiz
Contact Info:
Location:
Herndon, VA
Posted on:
November 10, 2023
Pet's Information
Pet's Name: Venus
Biography:

Venus is an incredibly loving and playful young dog! She's sassy and makes tons of funny noises. She loves to run around and play fetch as well as a good tug of rope. She's an excellent eater and will gobble up her meals. She is an insanely high jumper and does a bunch of crazy tricks for you. She enjoys curling up into a fluffy blanket. Venus has done 2 obedience series and has learned a ton. We initially adopted her with some behavioral issues and we have worked hard to train her. She has improved a great deal and knows her bed placement, sit, down, wait, and knows how to get on and off furniture. She is incredibly smart and can learn tricks and lessons very quickly.
Currently, Venus has trouble calming down around other dogs. She can get restless and sometimes barks at them. She plays-bites often when excited. She is learning to be calm at home and settle when we are gone but it is still a work in progress. She is still learning to socialize with dogs. She is generally an anxious dog at times and may take time to get used to a new home. Her anxiety can cause her to bite her nails. We would encourage a home with no other dogs and willing to continue training and working with her!
Venus is healthy. She has her required shots and currently takes flea/tick/heartworm prevention. She currently takes probiotics with her kibble to help her digestion (not needed but helps) as well as a hip & joint supplement for prevention. All current supplements are prevention. She doesn't have any medical issues. She does have a good deal of anxiety that may be something to look into if it continues as she gets older with training.
Overall, Venus is a great dog with a fun personality. She would make a great addition to anyone who can give her the time and care she needs.
Breed: Mix/German Shepherd
Gender: Female
Date of Birth: April 5, 2022
Color/Markings: Tan and Black
Weight: 32lbs.
Size: Medium
Re-Home Fee: $100
Reason for re-homing:

Venus's personality does not match well with our other dog and we are not able to give her the time and care she requires as she is growing.
Spayed or Neutered: Yes
Microchipped: Yes
Current on Vaccines: Yes
House-trained: Yes
Crate-trained: No
Litterbox-trained: No
Pet Friendly: Yes
Child Friendly: Unsure
Additional Images: