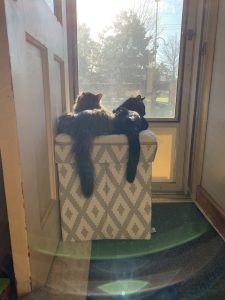 Owner's Information
Owner's Name:
Nancy
Contact Info:
Location:
Creighton, NE
Posted on:
September 29, 2023
Pet's Information
Pet's Name: Elwood & Walter
Biography:

**Willing to deliver to most of NE, IA, SD, KS, MN or KC area so please forward this on to any friends & family if you think they might be interested**
I am looking to find the absolute BEST & most loving home for two very snuggly middle aged cats. Elwood (Siberian?) is 7ish and Walter (black shorthair) is 6ish. I started living with my elderly mother 8 years ago & did not think I would still be here at this point. I feel guilty that these two are still stuck in the basement with me & also I'm just burned out from being responsible for so many living creatures. I'd just like to see these good boys have a better second half of their lives. Elwood & Walter love each other but I think they love human snuggling even more. I would definitely prefer that they stay together, but I think they would be fine going to different homes as long as they got a lot of human attention. They rarely let me sit on the couch alone! They get along well with small dogs. Not sure about larger ones as I just haven't witnessed it but I think they'd get along with any living creature as long as it was nice to them! I would prefer home without smaller children & definitely want them to remain indoor-only cats. I feel they would be perfect for an older person who may not want the full 15+ year commitment of a kitten.
Will provide new owner/owners with a bag of current food, litter boxes, litter, water/drinking fountain, toys, beds, etc. and will get shots updated upon request. They have not been outside or around other unknown animals since I first got them.
*Please note I have no idea if Elwood is 100% Siberian. He definitely looks like it but since he was a stray, I do not know & have never had breed testing done since his breed never mattered to me*
Breed: Siberian / American Shorthair
Gender: Male
Date of Birth: November 19, 2016
Color/Markings: brown tabby / black
Weight: 18lbs.
Size: Large
Re-Home Fee: $50.00
Reason for re-homing:

taking care of elderly mother is getting more involved & can't give as much attention to Elwood & Walter as they deserve/want
Spayed or Neutered: Yes
Microchipped: No
Current on Vaccines: No
House-trained: Yes
Crate-trained: No
Litterbox-trained: Yes
Pet Friendly: Yes
Child Friendly: Unsure
Additional Images: